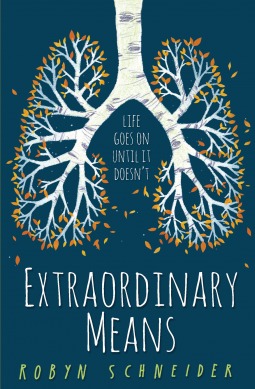 Title:
Extraordinary Means
Author:
Robyn Schneider
Publisher:
Simon & Schuster
Year published:
2015
How I got this book:
I borrowed it from one of my friends
My rating:
5 stars

Goodreads synopsis:
When he's sent to Lathma House, a boarding school for sick teens, Lane thinks his life may as well be over.
But when he meets Sadie and her friends - a group of eccentric troublemakers - he realizes that maybe getting sick is just the beginning. That illness doesn't have to define you, and that falling in love is its own cure.

My thoughts:
This book was so heartbreaking, you can't really expect anything else from a book about teenagers with incurable tuberculosis. But even though it was sad, it was funny as well. I laughed out loud plenty whilst reading this.
I adored the two main characters in this book, Lane and Sadie. We get to experience their story though both of their perspectives, which I personally really enjoyed. One of the best things about this book was how Sadie and Lane developed as they learned and experienced new things, and how their relationship evolved with them.
The supporting characters were also amazing. They were so different, but they still got along great. The other kids were Charlie, Nick and Marina. Charlie is gay and Marina is black, so yay! Diversity in books!
My absolute favourite part of this books was all the Harry Potter references. There were even some Game of Thrones, Doctor Who and John Green references as well. It was mostly Harry Potter though - which I'm perfectly okay with - and they created funny moments. Some of my favourite Harry Potter related moments were:
"I ran the class like Professor Snape was my spirit animal."
"We're going to Hogsmeade," Sadie said. "To get butterbeer"
"At least I'm not cosplaying as Professor Slughorn."
"Marina sat there writing fan fiction like if she tried hard enough, she could pretend she was at Hogwarts"
This has to be one of the best books I've read this year, and it's definitely one of my favourites. I flew through this so quickly. I decided that I wanted to start it, and before I knew it, it was finished. I rarely read a book in one sitting, because I get distracted, but that did not happen at all with this book.
I would recommend this to everyone I know, but especially people my age or if you're into YA books. I'm seriously considering buying this book just because I want to own it, love it, and make all of my friends read it. So yeah, this is a pretty great book. I really want to read more books by Robin Schneider because I'm sure I'll enjoy them as well. Even if they're only half as good as this one, they're definitely worth the read.