*Contains spoilers for Midnight Thief, as this is the sequel*
Title:
Daughter of Dusk (Midnight Thief #2)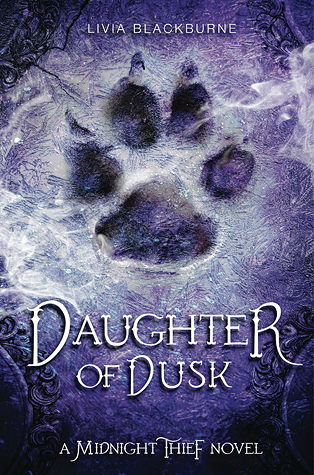 Author:
Livia Blackburne
Publisher:
Disney Hyperion
Year published:
2015
How I got this book:
I got this from the publisher through NetGalley in exchange for my opinion
My rating:
3,5 stars

Goodreads synopsis:
After learning the truth about her bloodlines, Kyra can't help but feel like a monster.
Though she's formed a tentative alliance with the Palace, Kyra must keep her identity a secret or risk being hunted like the rest of her Demon Rider kin. Tristam and the imprisoned assassin James are among the few who know about her heritage, but when Tristam reveals a heartbreaking secret of his own, Kyra's not sure she can trust him. And with James's fate in the hands of the palace, Kyra fears that he will give her away to save himself.
As tension rise within Forge's Council, and vicious Demon Rider attacks continue in surrounding villages, Kyra knows she must do something to save her city. But she walks a dangerous line between opposing armies: will she be able to use her link to the Demon Riders for good, or will her Makvani blood prove to be deadly?

My thoughts:
First of all I want to say that I enjoyed this book a lot. The first 100 pages were a little slow I think, but not boring at all.
We have plenty of POV's in this book, including Kyra, Tristma, Flick, James and even Bacchus/Rand for a passage. All of them were interesting to read from, but Kyra is my absolute favourite. I think she's such an awesome, strong girl. There are a lot of character development for Kyra in this book, and I was so happy with the direction it took. It was clear that she was afraid of the Demon Rider part of her blood, but she learned that it doesn't have to be all bad and to not fear it anymore.
Kyra also learns about her past in this book, and finds out some shocking things about herself.
I absolutely hated Willem. He was the perfect villain. So cunning and clever, my favourite type of antagonist. He was the guy you loved to hate, and I totally despised him.
I don't want to say much more about it, except that I recommend it a lot. The setting is wonderful, the characters are great and the plot is intriguing. If you've read Midnight Thief and liked that, you should definitely read this one. If you haven't read Midnight Thief yet, you should pick that up as soon as possible so you can read this as well.
This book comes out tomorrow, the 4th of August, and I hope some of you will read it!