*This will contain spoilers for the entire Heroes of Olympus series, including this book*
Title:
The Blood of Olympus (The Heroes of Olympus #5)
Author:
Rick Riordan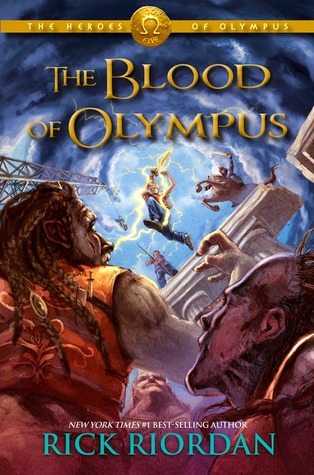 Publisher:
Disney-Hyperion
Year published:
2014
How I got this book:
Through BookDepository
Why I read this book:
I love this series
My rating:
5 stars

Goodreads synopsis:
Though the Greek and Roman crewmembers of the Argo II have made progress in their many quests, they still seem no closer to defeating the earth mother, Gaea. Her giants have risen - all of them - and they're stronger than ever. They must be stopped before the Feast of Spes, when Gaea plans to have two demigods sacrificed in Athens. She needs their blood - the blood of Olympus - in order to wake.
The demigods are having more frequent visions of a terrible battle at Camp Half-Blood. The Roman legions from Camp Jupiter, led by Octavian, is almost within striking distance. Though it is tempting to take the Athena Parthenos to Athen to use as a secret weapon, the friends know that the huge statue belongs back on Long Island, where it "might" be able to stop a war between the two camps.
The Athena Parthenos will go west, the Argo II will go east. The gods, still suffering from multiple personality disorder, are useless. How can a handful of young demigods hope to persevere agains Gaea's army of powerful giants? As dangerous as it is to head to Athens, they have no other options. They have sacrifices too much already. And if Gaea wakes, it is game over.

My thoughts:
I loved this book so much, and I'm so happy with how everything turned out for the characters, but I'm also so sad that this is over. I never wanted this series to end, I just enjoyed every book too much. Every night I only allowed myself to read a couple of chapters - to make it last longer - but when I was about a third of the way I gave up and read the rest in one sitting.
Rick's writing is so readable. It flows so easily and it's never boring. Things happen all the time, keeping you alert throughout the book. This was no exception to this, things happened all the time.
I was so, so happy that we got to read from Nico's POV. He's grown so much in this series and is probably my favourite out of all the characters, Leo coming up at second place. We get to read from both Nico's and Reyna's perspective in this book, and while I've seen many complain about this, I really enjoyed it. Reyna was a wonderful character and I was so happy that we got to know her a lot better. While I did think that the Nico and Reyna part distracted a lot from the "main" plot - if I can call it that - it was okay, because I think both was interesting to read.
We didn't get a Percy perspective in this book, which I'm kind of sad about, but it's also okay. This whole series started with him 9 books earlier, and it would have been great to end it with him as well. But Rick decided that we didn't, and I'm okay with that. We also read from Leo's, Piper's and Jason's POV, and they were the three that started the Heroes of Olympus series, so I see what Rick did there. And Leo is so adorable and I love him so much, so I didn't mind the choice of POVs.
If there's one thing I have to complain about, it's the ending. There was so much buildup to the fight with the giants, but that ended as soon as it started. And then, there was this whole fighting Gaea - which was supposed to be undefeatable - and that didn't get much space in the book either. They didn't even need that many people, I mean, Leo and Festus could practically do it on their own. Also, the ending after the fighting didn't really satisfy me. They all thought Leo was dead, and they just talked a little and then it was like he had never existed. But I really enjoyed Nico and Will. I found myself smiling and snickering at the book whilst reading their conversations.
So, even though I'm not completely happy, I still liked it enough to give it 5 stars. I can't help but love everything Riordan writes, and I didn't give much thought about the ending and fights until after I had finished the book and started to think about it. It's a typical Riordan book, with lots of obstacles for the characters, and as soon as they think they might catch a break, something new happens. And I love it.
Oh, and there was the hint about his new series coming out about Magnus Chase and the Norse gods? I can't wait for that series, especially since I've grown up with Norse mythology. But anyway, this doesn't have anything to do with the book I'm reviewing now.
You should pick up this series if you haven't yet. It's amazing. Although I'd advise you to read the Percy Jackson and the Olympians series first, but it's not required. It'll just help you understand some small things, and give you a deeper connection with some of the characters.
Have you read this book? Did it satisfy you as an ending for this series?