Hello!
First of all I want to apologize for the lack of content on the blog lately. School as started again, and it's completely crazy right now. Fortunately, it'll get better in a few weeks - and I'll settle into a routine - which means that I will be able to read more. I'm hoping that I'll be able to write more on the blog as soon as possible, but I don't want to pressure myself into doing so either, because that'll just make it feel like a chore. This month I only read two books, one of them being a children's book I was sent for review.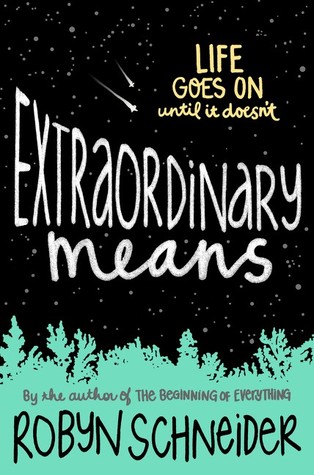 The first book I read was
Extraordinary Means
by Robyn Schneider which got 5 out of 5 stars, it was so amazing.
The second, and last, book I read was
Aoleon; The Martian Gir
l by Brent LaVesseur. This got 2 out of 5 stars. It wasn't bad, but it wasn't for me.
YOu can of course read more about what I thought of these books in my review of them, if you want to.
I hope you had a great reading month, and that September will bring plenty of new, lovely books!