Title:
The Lightning Thief ( Percy Jackson & The Olympians #1)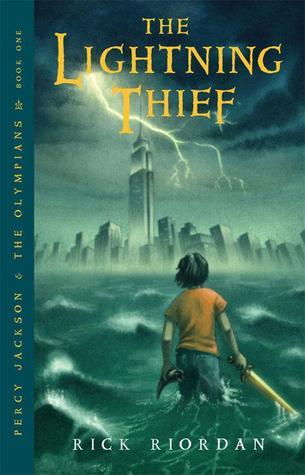 Author:
Rick Riordan
Publisher:
Disney Hyperion Books
Year published:
2006
My rating:
4 stars

Goodreads synopsis:
Percy Jackson is a good kid, but he can't seem to focus on his schoolwork or control his temper. And lately, being away at boarding school is only getting worse - Percy could hace sworn his pre-algebra teacher turned into a monster and tried to kill him. When Percy's mom finds out, she knows it's time that he knew the truth abouth where he came from, and that he go to the one place he'll be safe. She send Percy to Camp Half Blood, a summer camp for demigods (on Long Island), where he learns that the father he never knew is Poseidon, God of the Sea. Soon a mystery unfolds and together with his friends - one a satyr and the other the demigod daughter of Athena - Percy sets out on a quest across the United States to reach the gates of the Underworld (lovated in a recording studio in Hollywood) and prevent a catastrophic war between the gods.

My thoughts:
Honestly, I wasn't actually going to review this book. I don't really like reviewing book when I reread them, but here I am. I'm currently rereading the whole series for school, so I figured that I could review the books as well, that way I have to focus more whilst reading.
I will try to keep the review as spoilerfree as possible, but I can't promise anything, because I know the books too well. I'll try, but perhaps you shouldn't read them if you haven't read the books as well.
Percy Jackson is on of my absolute favourite series, I can't get enough of them. I finished the Heroes of Olympis series this year, and I'm so happy to be back in Percy's world again. The writing is so clever and witty, and the books are just fun.
Even though these books are quite repetetive, I don't mind at all. They are just lighthearted, fast-paced books where you also learn a lot about Greek Mythology.
I felt so sorry for Percy til book. He's just a kid and he's going through so much, and this is just the beginning. Percy is such a strong and powerful boy and everytime he accomplishes something, my heart fills with joy.
This book and this series is something I recommend to everyone I know. My love for Percy is gigantic, and I want everyone else to love him as well.