Title:
The Mark of Athena (The Heroes of Olympus #3)
Author:
Rick Riordan
Publisher:
Hyperion Book CH
Year published:
2012
How I got this book:
Borrowing from school library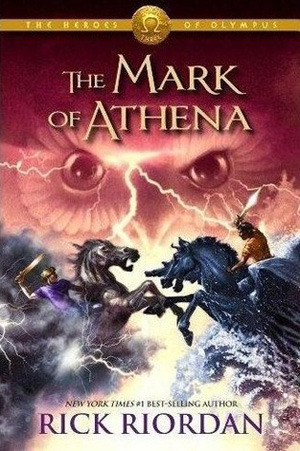 Why I read this book:
I love this series
My rating:
4,5 stars

Goodreads synopsis:
Annabeth is terrified. Just when she's about to be reunited with Percy - after six months of being apart, thanks to Hera - it looks like Camp Jupiter is preparing for war. As Annabeth and her friends Jason, Piper and Leo fly in on the Argo II, she can't blame he Roman demigods for thinking the ship is a Greek weapon. With its steaming bronze dragon masthead, Leo's fantastical creation doesn't appear friendly. Annabeth hopes that the sights of their praetor Jason on deck will reassure the Romans that the visitors from Camp Half-Blood are coming in peace.
And that's only one of her worries. In her pocket Annabeth carries a gift from her mother that came with an unnerving demand: Follow the Mark of Athena. Avenge me. Annabeth already feel weighed down by the prophecy that will send seven demigods on a quest to find - and close - the Doors of Death. What more does Athena want from her?
Annabeth's biggest fear, though, is that Percy might have changed. What if he's now attached to Roman ways? Does he still need his old friends? As the daughter of the goddess of war and wisdom, Annabeth knows that she was born to be a leader, but never again does she want to be without Seaweed Brain by her side.
My thoughts:
You know how when you finish a book, you sometimes immediately know what you're going to write in your review? This was not one of them. I don't know what to make of my thoughts about this in a way that makes sense.
I really liked this book. So far, I really like all of the books in the series. I don't know what to say.
In this book the seven heroes finally meets each other, and Annabeth and Percy are reunited. I loved seeing how they all acted around each other. There was a lot of tension between some of the characters, like Jason and Percy, and I liked that all of the main characters didn't really get along, but they knew when they needed to stick together.
There's a lot happening in this book, especially at the end. They all split up, so we read from different adventures that's happening at the same time. While this could lead to a lot of confusion, Rick does it in a great way. He doesn't switch between the characters too often, there are at least 3 chapters for each in a row. And we don't read from all seven perspectives, just four; Annabeth, Percy, Hazel and Leo.
I've found out that I enjoy reading from Annabeth's perspective the most. It's interesting to see how her brain works and how she figures things out.
So far in this series, my favourite is The Son of Neptune, but I love them all and I can't wait to get my hands on the next book. This book ended on such a cliffhanger, I can't bear it