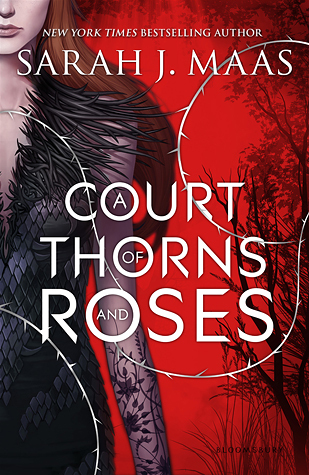 Title:
A Court of Thorns and Roses
Author:
Sarah J. Maas
Publisher:
Bloomsbury Children's
Year published:
2015
How I got this book:
Barnes & Nobles in New York
Why I read this book:
I love the Throne of Glass series by Sarah, and this had such good reviews that I had to read it.
My rating:
5 stars

Goodreads synopsis:
When nineteen-year-old huntress Feyre kills a wolf in the woods, a beat-like creature arrives to demand retribution for it. Dragged to a treacherous magical land she only know about from legends, Feyre discovers that her captor is not an animal, but Tamlin - one of the lethal, immortal faeries who once ruled their world.
As she dwells on his estate, her feelings for Tamlin transform from icy hostility into a fiery passion that burns through every lie and warning she's been told about the beautiful, dangerous world of Fae. But an ancient, wicked shadow grows over the faerie lands, and Feyre must find a way to stop it ... or doom Tamlin - and his world - forever.
My thoughts:
This is a re-telling of Beauty and the Beast, and I absolutely loved it. Beauty and the Beast is my favourite Disney movie, so I was a little worried that this would disappoint me. But it never did. There are some elements that are clearly taken from the fairytale, but Maas also made this story her own. She also made some opposites, that I really enjoyed, for instance that while Belle loves to read, Feyre doesn't know how to and loves painting instead.
When I finished this book I was a little confused. I knew that this was going to be a trilogy, but I didn't know that Maas will incorporate a different fairytale/myth in the next one, so I was so confused because the Beauty and the Beast story was already finished.
I can't get over how good Maas is at writing fictional boys that I just fall in love with, while being completely different from each other. Tamlin was so adorable, and I fell completely in love with him.
From here on, there will be spoilers
I just have to say that while I did love Tamlin, a lot, I love Rhysand so much more. When Feyre first ran into him the forest during the solstice, I just knew that we would be seeing more of him, and I couldn't wait. And when he goes to the spring court again and is all mean, I just knew that he wasn't all that bad. I mean, he obviously knew that Feyre was giving a fake name, but he didn't do anything about it. While I obviously think that some of the things he did at the end of the book were questionable, I understand why he did it. But Rhys obviously has been through a lot, and I can't wait to learn more about him in the next book.
And when Feyre get's sent away just THREE days before the curse can't be broken anymore? I got so mad at Tamlin when he did that, and at Lucien for letting him go through with it. So when Feyre decides to go back I was so happy, because finally they can be together. But then, of course Tamlin is missing.
The final part of the book, with the trials under the mountain was so intense. I couldn't put the book down, and I was so into it. I couldn't understand the riddle Amarantha gave Feyre, but I didn't really try that hard either, to be honest. I didn't want to stop reading the book, so I didn't give myself time to think about it.
I know that this review probably didn't make that much sense, but that's because my thoughts about this book is still all over the place. But I did really enjoy it, and would recommend it to everyone that likes fairytales, fantasy and a good romance.