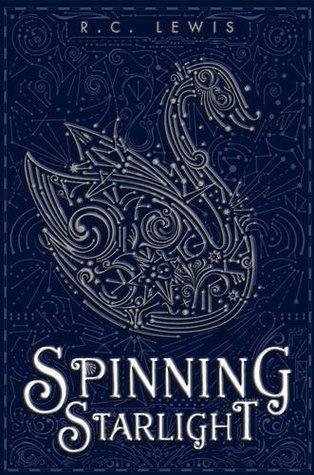 Title:
Spinning Starlight
Author:
R. C. Lewis
Publisher:
Disney Hyperion
Year published:
2015
How I got this book:
I got this as an e-arc through NetGalley in exchange for an honest review.
My rating:
4,5 stars

Goodreads synopsis:
Sixteen-year-old heiress and paparazzi darling Liddi Jantzen hates the spotlight. But as the only daughter in the most powerful tech family in the galaxy, it's hard to escape it. So when a group of men show up at her house uninvited, she assumes it's just the usual media-grubs. That is, until shots are fired.
Liddi escapes, only to be pulled into an interplanetary conspiracy more complex than she ever could have imagined. Her older brothers have been caught as well, trapped in the conduits between the planets. And when their captor implants a device in Liddi's vocal cords to monitor her speech, their lives are in her hands: One word and her brothers are dead.
Desperate to save her family from a desolate future, Liddi travels to another world, where she meets the one person who might have the skills to help her bring her eight brothers home - a handsome dignitary named Tiav. But without her voice, Liddi must use every bit of her strength to convince Tiav that her mission is true. With the tenuous balance of the planets deeply intertwined with her brothers' survival, just how much is Liddi willing to sacrifice to bring them back?
Haunting and mesmerizing, this retelling of Hans Christian Andersen's The Wild Swans strings the heart of the classic with a stunning, imaginative world as a star-crossed family for survival in this companion to Stitching Snow.

My thoughts:
I don't read a lot of sci-fi, I feel like it's not for me, but this made me reconsider this. I enjoyed it so much, and I want more.
This is a retelling of H. C. Andersen's fairytale "The Wild Swans", and I have to admit, I didn't know what it was about. Therefore, I did some research so that I knew the original story before going into this book. I'm glad that I did, but that could be different from everyone. It didn't change how I felt about the story, I just like to know the fairytale that's being retold.
I thought the setting was absolutely brilliant, but I didn't actually think about it until after finishing the book. We follow Liddi, and when she's at her home planet, Sampati. If she leaves the house "paparazzi" will start following her immediately, and she can't do anything without making headlines in the media. I thought this made a clever comment on the society we have today, were celebrities can't do anything without the entire world finding out about it.
Liddi is one of my favourite heroines so far this year, and I felt like i connected and understood her a lot. She couldn't speak for most of the book, something I found interesting and really fun, but we got to know her through her thoughts and her background, and I really enjoyed that. I also liked Tiav a lot, and I fell a little bit in love with him myself. The romance was important, but her family was a lot more important to Libby, and therefore the romance wasn't the only thing she thought about, and I found that so refreshing.
Between each chapter we got a little throwback about Liddi from her childhood, told in third-person (the rest of the book is written in first-person), and they were great for helping the reader understand her relationship with her family and getting to know her parents. And, even though I didn't realise this at first, each of the throwbacks has something to do with the following chapter, but not always in the way you expect.
I will recommend this to several of my friends, and it's definitely re-read worthy. I'm so glad that I got the opportunity to read this before publication, and I want to thank NetGalley for that.
You can get this book here:
BookDepository (Worldwide, affiliate link)
Amazon (US)
Amazon (UK)
Adlibris (Norway)