*This review will contain spoilers from the Throne of Glass series, as this is the third book*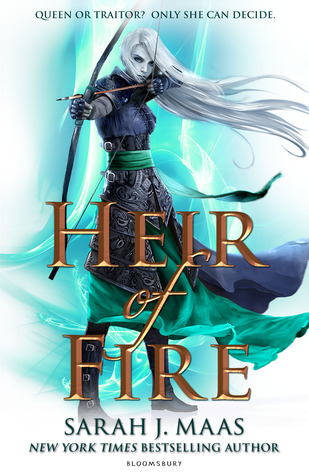 Title:
Heir of Fire (Throne of Glass #3)
Author:
Sarah J. Maas
Publisher:
Bloomsbury
Year published:
2014
How I got this book:
Bookdepository
Why I read this book:
I am in love with the entire series, so it's obvious
My rating:
5 stars

Goodreads synopsis:
She was the heir of ash and fire, and she would bow to no one.
Celaena Sardothien has survived deadly contests and shattering heartbreak - but at an unspeakable cost. Now she must travel to a new land to confront her darkest truth...a truth about her heritage that could change her life - and her future - forever.
Meanwhile, brutal and monstrous forces are gathering on the horizon, intent on enslaving her world. To defeat them, Celaena must find the strength to not only fight her inner demons, but to battle the evil that is about to be unleashed.

My thoughts:
I love this series so much, that I can't say anything bad about it. And I absolutely adore Celaena, and the other characters.
In the previous books we have read from three perspectives, as Celaena, Chaol and Dorian. But they have all been in the same place and experienced things together. In this book however, they are split up. Celaena is in Wendlyn while the two others are still in Adarlan. We continue to read from all of their perspectives, and Maas has even added in two more. Sorscha - a healer in the castle - and Manon Blackbeak, a witch. When we first read from Manon's perspective I didn't really understand why, but as the book went along it became clear. While they didn't really do much to the story in this book - at least not in the main plot - it's obvious that they will be important later in the series, and by allowing us to read from Manon's perspective Maas' has shown us that not all witches are bad all the way through.
There were two other new, important characters we got to know in this book as well. There is Aedion Ashryver, who is the general for the King of Adarlan, and a cousin of Celaena. And there is Rowan Whitethorn. How I despised him in the beginning, but as Celaena got to know him I liked him more and more. (And I'm really hoping that they get together at some point in this series.)
The character development in this book is fantastic, and you can see it so clearly in Celaena. She changes to much as a person, and learns much about herself. I thought I really knew her from the two previous books, and boy was I wrong. As she discovers things about herself, we learn how much everything she's been through has actually affected her, in ways we haven't seen before.
I don't even know what else to say about this book, I can't say enough good things about it, so I'll just stop myself here. I haven't really been this big high fantasy fan, but the Throne of Glass series has changed that for me, and has inspired me to pick up Game of Thrones as soon as I have the chance.
Have you read Heir of Fire?