* This review will contain spoilers for The Archived, as this is the sequel*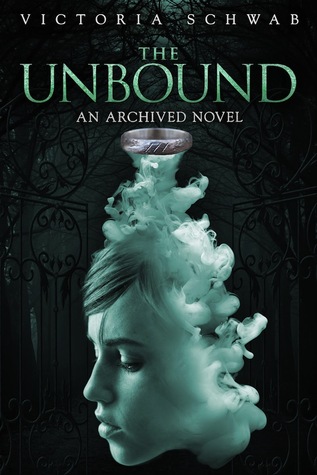 Title:
The Unbound (The Archived #2)
Author:
Victoria Schwab
Publisher:
Hyperion
Year published:
2014
How I got this book:
Bookdepository
Why I read this book:
I loved The Archived, so I found it natural to read the sequel as well.
My rating:
4,5 stars

Goodreads synopsis:
Imagine a place where the dead rest on shelves like books. Each body has a story to tell, a life seen in pictures that only Librarians can read. The dead are called Histories, and the vast realm in which they rest is the Archive.
Last summer, Mackenzie Bishop, a Keeper tasked with stopping violent Histories from escaping the Archive, almost lost her life to one. now, as she starts her junior year at Hyde School, she's struggling to get her life back. But moving on isn't easy - not when her dreams are haunted by what happened. She knows the past is past, know it cannot hurt her, but it feels so real, and when her nightmares begin to creep into her waking hours, she starts to wonder if she's really safe.
Meanwhile, people are vanishing without a trace, and the only thing they seem to have in common is Mackenzie. She's sure the Archive know more than they are letting on, but before she can prove it, she becomes the prime suspect.And unless Mac can track down the real culprit, she'll lose everything, not only her role as Keeper, but her memories, and even her life. Can Mackenzie untangle the mystery before she herself unravels?

My thoughts:
Even though The Unbound got the same star rating as The Archived, I have to admit that I actually liked this one a little bit better. But that could be because I already knew Mackenzie, and the other characters involved.
When I started this I had absolutely no idea where the plot would take me. I thought the first book ended great, but it ended in a way that it could have been a standalone. I'm so glad it isn't.
Throughout this book I was confused and intrigued by what was happening to Mackenzie, and I didn't know any more than she did. I was afraid she actually was going crazy for a while, with the whole not sleeping thing. But I also thought she was completely right about the other thing, and the victims. I loved that we didn't know any more than Mackenzie knew, and that way we couldn't tell what was going to happen before she could see it herself.
This absolutely blew me away, and I read it in two days. I flew through it, and I want - no, need - the next book asap. This book did end on quite a cliffhanger, in my opinion, and I really want to know what's going to happen in the next book, and what awaits her in the future.
And also, I loved Wes in this book, who wouldn't? And I am grateful Victoria let us spend more time with him, I enjoyed every part of it. And I am completely in love with Cash, and I'm proud of it.