Title:
Fangirl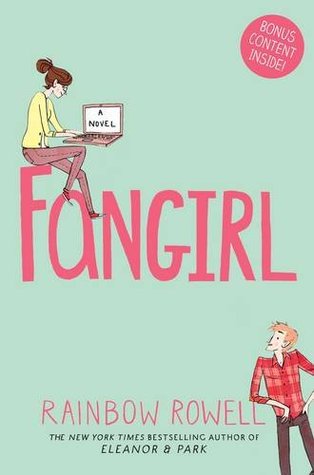 Author:
Rainbow Rowell
Publisher:
Pan Macmillan
Year published:
2013
How I got this book:
Bookdepository
Why I read this book:
I just love Rainbow Rowell
My rating:
5+++ stars

Goodreads synopsis:
Cath and Wren are identical twins, and until recently they did absolutely everything together. Now they're off to university and Wren's decided she doesn't want to be one half of a pair any more - she wants to dance, meet boys, go to parties and let loose. It's not so easy for Cath. She's horribly shy and has always buried herself in the fan fiction she writes, where she always knows exactly what to say and can write a romance far more intense than anything she's experienced in real life.
Now Cath has to decide whether she's ready to open her heart to new people and new experiences, and she's realizing that there's more to learn about love than she ever thought possible ...
My thoughts:
As I'm writing this I have literally just finished this book. I went straight to my room to write this when I closed it.
I loved this book so much more than I expected too. I've heard so many people talk about it and loving it, but I still had my doubts - for some reason. And I'm glad. I didn't know what to expect from this book, and I enjoyed every single page.
The characters in this book were all so amazing. But especially Cath, the main character. I could relate to her from the moment I read about her. She seemed so real. There are too many characters out there that doesn't seem like real people, and I'm so, so glad Cath isn't one of them. And she developed so well during the story, and so subtle. There wasn't one major thing that changed her, it was all her experiences during her first year at college, and she learned how to deal with things.
I'm so grateful that the romance wasn't the main plot in this book. Yes, it was a big part, but it was very clear that her family was way more important, especially her father and twin-sister, Wren. I love that their relationship isn't all good, but it's not all bad either. They are best friends, and always will be no matter what, but they still fight and disagree. And then there is their wonderful, loving, manic father. Who always tries his best and want nothing but the best for them. And their relationships all developed so realistically. Not just Cath with her family, but with her roommate Reagan, and Levi.
Don't even get me started on Reagan or Levi. I loved them both so much. Reagan intrigued me, and even though we never really learn much about her, the relationship between her and Cath blossoms into a wonderful - albeit confusing - thing, and it's clear that they really care about each other. And her relationship with Levis as well. She is so confused by him in the beginning, but they find their rhythm and everything works out.
Though this is a contemporary book, it still has that magic to it, through Simon Snow. We all know that Cath is a big Simon Snow fan, and she writes a lot of fan fiction about him and Baz - his nemesis. Before each chapter we also get to read and excerpt from a Simon Snow story. Sometimes it's the "real" book by Gemma T. Leslie or sometimes it's from one of Cath's fan fictions.
As a whole, I really enjoyed this book. I didn't want to put it down when I first started it, and I didn't ever want it to end. This made me want to start writing again, even though I have absolutely nothing to write about. And it made me really excited to start university. This is a book I would recommend to everyone.