This is the second book in a series, and will therefore contain spoilers for the first one, Cinder.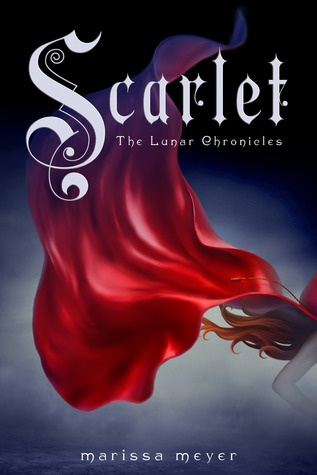 Title:
Scarlet (The Lunar Chronicles #2)
Author:
Marissa Meyer
Publisher:
Puffin Books
Year published:
2013
How I got this book:
Bought it at my local bookstore
My rating:
4 stars

Goodreads synopsis:
This is not the fairytale you remember.
But it's one you won't forget.
Scarlet Benoit's grandmother is missing. Police have closed her case. The only person Scarlet can turn to is Wold, a street fighter she does not trust, but they are drawn to each other.
Meanwhile, in New Beijing, Cinder will become the Commonwealth's most wanted fugitive - when she breaks out of prison to stay one step ahead of vicious Queen Levana.
As Scarlet and Wolf expose one mystery, they encounter Cinder and a new one unravels. Together they must challenge the evil queen, who will stop at nothing to make Prince Kai her husband, her king, her prisoner ...

My thoughts:
I think this might become one of my favorite series, because I really enjoyed this book. I think the stories are brilliantly written, and I think the fairytale-retellings are creative. Scarlet doen't follow Red Riding Hood down to the word, but still enough that you can clearly tell that it's a retelling, which I think can be difficult sometimes.
We are introduced to some new characters in this book, especially Scarlet Benoit and Wolf. I really liked both of them, and really enjoyed reading about Wolf. With his name it was pretty obvious that he wasn't a good guy, but his complexity was super interesting.
Though we are introduced to new characters, we also follow Cinder. We keep following these two storylines throughout the book, until they finally meet. I thought this was great, because I really enjoy reading as Cinder, and I wasn't ready to let her go yet.
I'm super excited to start Cress, I just want to know what's going to happen! This is definitely a series I recommend to people, even though they don't read much sci-fi.

Buy this book?
Amazon (US)
Amazon (UK)
BookDepository (worldwide, affiliate link)
AdLibris (Norway)