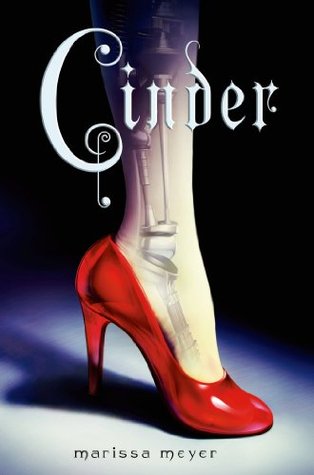 Title:
Cinder (The Lunar Chronicles #1)
Author:
Marissa Meyer
Publisher:
Feiwel & Friends
Year published:
2012
How I got this book:
I don't remember, but I probably bought it at Bookdepository (afiiliate link)
My rating:
4 stars

Goodreads synopsis:
Humans and androids crowd the raucous streets of New Beijing. A deadly plague ravages the population. From space, a ruthless lunar people watch, waiting to make their move. No one knows that Earth's date hinges on one girl.
Cinder, a gifted mechanic, is a cyborg. She's a second-class citizen with a mysterious past, reviled by her stepmother and blamed for her stepsister's illness. But when her life becomes intertwined with the handsome Prince Kai's, she suddenly finds herself at the center of an intergalactic struggle, and a forbidden attraction. Caught between duty and freedom, loyalty and betrayal, she must uncover secrets about her past in order to protect her world's future.

My thoughts:
I really enjoyed this book. This was my second attempt at reading it, and I enjoyed it so much more this time around. It's been over a year since I first tried, but I wasn't in the mood for it and only got a couple of pages in. Now, I started listening to it as an audiobook, and I was immersed in the story immediately.
Cinder is a re-telling of Cinderella, but with cyborgs, robots and really cool technology. I haven't read any Cinderella retellings before, but this has set the bar high for any others I might come across. I'm usually not that into sci-fi with cyborgs and such, but it worked in this book. I really liked the universe this was set in, it was our world, just further in the future. It was super easy to get into, and I always understood everything.
This is the first book in a series, and I have the two next as well. That's actually what made me pick up this book again now. I bought the two next ones on sale at my local bookshop, so I just had to start them. I'm generally a big fan of fairytales and re-tellings, so based on that this should be right up my alley.
I found all the characters to be realistic, and I really enjoyed reading about them and how they interacted with each other. The chemistry between the different characters really worked, and the relationships seemed believable, which isn't always the case.
This is definitely a book I would recommend if you enjoy sci-fi, fairytale-retellings, or just great books. I can't wait to start the next one, and I hope it will be just as good.

Buy this book?
Amazon (US)
Amazon (UK)
BookDepository (worldwide, affiliate link)
AdLibris (Norway)