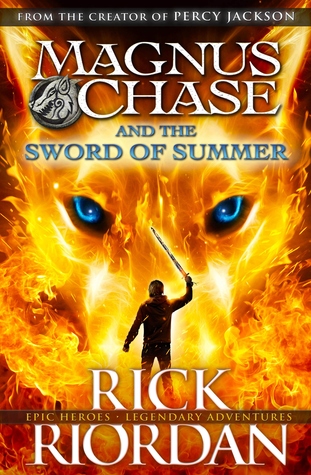 Title:
The Sword of Summer (Magnus Chase and the Gods of Asgard #1)
Author:
Rick Riordan
Publisher:
Disney Hyperion
Year published:
2015
How I got this book:
Got it as a christmas present
My rating:
5 stars

Goodreads synopsis:
Magnus Chase has always been a troubled kid. Since his mother's mysterious death, he's lived alone on the streets of Boston, surviving by his wits, keeping one step ahead of the police and the truant officers.
One day, he's tracked down by an uncle he's never met - a man his mother claimed was dangerous. His uncle tells him an impossible secret: Magnus is the son of a Norse god.
The Viking myths are true. The gods of Asgard are preparing for war. Trolls, giants and worse monsters are stirring for doomsday. To prevent Ragnarok, Magnus must search the Nine Worlds for a weapon that has been lost for thousands of years.
When an attack by fire giants forces him to choose between his own safety and the lives of hundreds of innocents, Magnus makes a fatal decision.
Sometimes, the only way to start a new life is to die...
My thoughts:
I have a feeling I might actually like this series more than the Percy Jackson series, which is saying something. I flew threw this book in one sitting, because I just didn't want to put it down. It definitely has the same feel as the Percy Jackson series, and it's written with the same humour. Which is good for me, because I find it funny.
The main difference from the Percy Jackson series is, of course, the gods. In The Sword of Summer they are all Norse gods, from Norse mythology. This is one of the reasons I might like this more. I absolutely love Greek mythology, but I grew up with Norse mythology. I starter learning about it early in school, maybe around 8 years old, and therefore feel a more personal connection with the Norse mythology.
The plot is fast paced, and there's always something happening. It's never boring, which is saying something when the book has 500 pages. As with the Percy Jackson series, this is a book for middle graders. But still, this book will probably be really entertaining even if you're older. You just have to keep in mind that some of the humour is meant for younger children.
This is a book I will recommend to everyone, and I am so excited for the next one to come out. I can't believe I have to wait until October. Because of that, I am actually glad I waited this long before I read it, even though I've had it in my room since christmas, because I don't have to wait as long. This is definitely a book everyone should read, or at least give it a chance.

Buy this book?
Amazon (US)
Amazon (UK)
BookDepository (worldwide, affiliate link)
AdLibris (Norway)