As this is the sequel to a book, this post will contain spoilers about A Court of Thorns and Roses.

Title:
A Court of Mist and Fury (A Court of Thorns and Roses #2)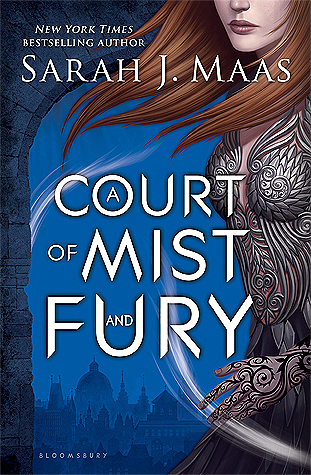 Author:
Sarah J. Maas
Publisher:
Bloomsbury Childrens
Year published:
2016
How I got this book:
I bought it through BookDepository
My rating:
5 stars, though I would like to give it like 10 stars

Goodreads synopsis:
Feyre survived Amarantha's clutches to return to the SPring Court - but at a steep cost. Though she now has the powers of the High Fae, her heart remains human, and it can't forget the terrible deeds she performed to save Tamlin's people.
Nor has Feyre forgotten her bargain with Rhysand, High Lord of the feared Night Court. As Feyre navigates its dark web of politics, passion, and dazzling power, a greater evil looms - and she might be the key to stopping it. But only if she can harness her harrowing gifts, heal her fractued soul, and decide how she wishes to shape her future - and the future of a world cleaved in two.

My thoughts:
The only thing I can say without really spoiling anything is; read it. Read it as soon as possible. It is absolutely wonderful, and I didn't want to put it down. I finished the enitre thing, 624 pages, in less than 12 hours. All I could, and still can, think about was this book. Read it.
Now to the section with spoilers. Only read this if you've finished the entire book, because there will be plenty of spoilers.
I want to start with my feelins for Tamlin. I reread ACOTAR the day before I read this, and for the most part, I absolutely love Tamlin. But I have always had a thing for Rhysand, after reading the book for the first time. And I'm so glad we got a lot more Rhysand and Feyre time this book, and that she got over Tamlin. I will forever be grateful that Maas didn't turn this into a love triangle, as so many authors would have done. Instead, Feyre fell out of love with Tamlin, and then in love with Rhysand. She grew, and therefore wasn't a great fit for Tamlin anymora.
And can we just talk about the fact that Feyre and Rhysand are mates??? I got super happy when I found out, and even happier when Feyre accepted it. And I didn't absolutely hate the following scenes either.
Feyre evolved so much throughout this book, and she learned to believe in herself, and in her powers. I can't imagine how powerful she will be when she has 100% control over all her powers. I would want to be on her side, I'm sure about that.
We got to meet a lot of new characters in this book, especially Rhysand's inner circle. I found all of them likeable, and I'm really glad that we got to spend so much time with them, and get to now them properly. I really hope we get to spend more time with them in the next book, which I'm super excited for.
Can we just talk about the ending for a moment? My heart was literally broken for a couple of pages, and all I wanted to do was cry. When the King of Hybern broke their bond, and I was so sad. But when we got that one chapter from Rhysand's POV and he explained to the others, I was so happy.
End of spoilers
I can't wait for the next book. I want it in my hands right now! Luckily we get a new Sarah J. Maas book this year, Empire of Storms, though it is in another series. Hopefully, this year will go fast, so I don't have to wait long before I have the next book in my hands.
Buy this book?
Amazon (US)
Amazon (UK)
BookDepository (worldwide, affiliate link)
AdLibris (Norway)