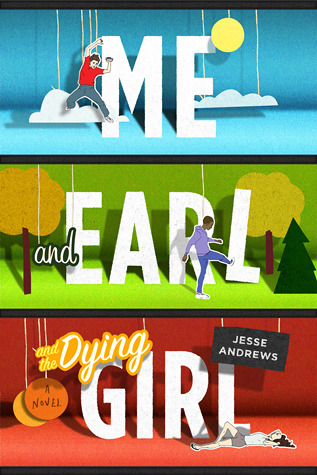 Title:
Me and Earl and the Dying Girl
Author:
Jesse Andrews
Publisher:
Amulet Books
Year published:
2012
How I got this book:
Borrowed it from my mum
My rating:
3 stars

Goodreads synopsis:
Greg Gaines is the last master of high school espionage, able to disappear at will into any social environment. He has only one friend, Earl, and together they spend their time making movies, their own incomprehensible versions of Coppola and Herzog cult classics.
Until Greg's mother forces him to rekindle his childhood friendship with Rachel.
Rachel has been diagnosed with leukemia - cue extreme adolescent awkwardness - but a parental mandate has been issued and myst be obeyed. When Rachel stops treatment, Greg and Earl decide the thing to do is to make a film for her, which turns into the Worst Film Ever Made and becomes a turning point in each of their lives.
And all at once Greg must abandon invisibility and stand in the spotlight.

My thoughts:
To be honest, I was a bit disappointed in this book. I had heard so much about it and how so many people loved it, and I don't really get it. Don't get me wrong, it's not a bad book at all, I know my mum really liked it as well, it just wasn't really for me. I could have just read it at the wrong time as well, and I might have enjoyed it a lot more reading it a couple of months from now.
It was an easy and quick read, which I really liked. The format was different from anything I've ever read, and not in a negative way. It was written in a way that felt very personal, but even so, I wasn't able to really connect with any of the characters. To me, it felt like the narrator was trying to hard, and I didn't really get it.
Though it wasn't the best book for me, I know many do enjoy it, and that's great. We can't all enjoy the same things, and I don't regret reading this book at all. I would recommend giving it a try, it doesn't take long to get through.

Buy this book?
Amazon (US)
Amazon (UK)
BookDepository (worldwide, affiliate link)
AdLibris (Norway)