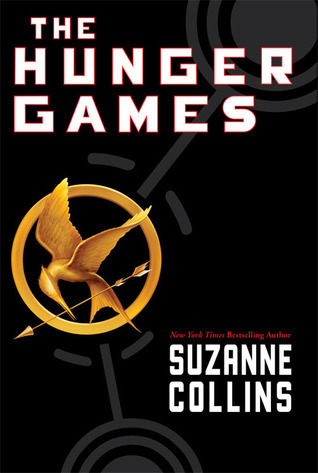 Title:
The Hunger Games (The Hunger Games #1)
Author:
Suzanne Collins
Publisher:
Scholastic Press
Year published:
2008
How I got this book:
In a random bookshop in 2008
My rating:
5 stars

Goodreads synopsis:
Winning will make you famous.
Losing means certain death.
The nation of Panem, formed drom a port-apocalyptic North America, is a country that consists of a wealthy Capitol region surrounded by 12 poorer districts. Early in its history, a rebellion led by a 13th district against the Capitol resulted in its destruction and the creation of an annual televised event known as the Hunger Games. In punishment, and as a reminder of the power and grace of the Capitol, each district must yield one boy and one girl between the ages of 12 and 18 through a lottery system to participate in the games. The 'tributes' are chosen during the annual Reaping and are forced to fight to the death, leaving only one survivor to claim victory.
When 16-year-old Katniss's young sister, Prim, is selected as District 12's female representative, Katniss volunteers to take her place. She and her male counterpart Peeta, are pitted against bigger, stronger representatives, some of whom have trained for this their whole lives. She sees it as a death sentence. But Katniss has been close to death before. For her, survival is second nautre.
My thoughts:
Originally, I wasn't planning on writing a review for this book, or Catching Fire and Mockingjay. I've read them several times before, and I honestly don't have anything bad to say about them. So these review will basically just be me, talking about how much I love them.
I first read this book back in 2008, and I can't believe how big it has gotten. I remember trying to get all my friends to read it, and I wanted it to become a movie so bad. This trilogy is so close to my heart, I can't even describe it.
The setting of The Hunger Games is so original, and the world is so detailed and thought through. I'm a aware that many thinks this is just a rip-off of Battle Royale, but I completely disagree. And a big part of the book happens before the games. Katniss is an amazing character, not always likeable, but amazing all the while.
Rue must be my absolute favourite character in this book. She's so adorable, and you can't help but loving her. It's so easy to ignore the fact that they are children fighting to the death, but she makes us remember that. She's just 12, and I love the relationship she develops with Katniss.
Though this only is the first book in a trilogy, the ending is great. It wraps up everything nicely, but still leaves us wanting more and excited for the next book.
I recommend this book to everyone I know, no matter what age. I think everyone should at least try to read it, and if they don't like it they can put it down.
Want to buy this book?
Bookdepository (Affiliate link, worldwide)
Amazon (US)
Amazon (UK)
Adlibris (Norway)