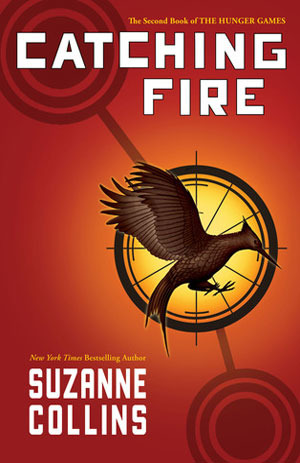 Title:
Catching Fire (The Hunger Games #2)
Author:
Suzanne Collins
Publisher:
Scholastic Press
Year published:
2009
How I got this book:
It's been so long that I don't remember
My rating:
5 stars

Goodreads synopsis:
Sparks are igniting.
Flames are spreading.
And the Capitol wants revenge.
Against all odds, Katniss has won the Hunger Games. She and fellow District 12 tribute Peeta Millark are miraculously still alive. Katniss should be relieved, happy even. After all, she has returned to her family and her longtime friend, Gale. Yet nothing is the way Katniss wishes it to be. Gale holds her at an icy distance. Peeta has turned his back on her completely. And there are whispers of a rebellion against the Capitol - a rebellion that Katniss and Peeta may have helped create.
Much to her shock, Katniss has fueled an unrest she's afraid she cannot stop. And what scares here even more is that she's not entirely conviced she should try. As time draws near for Katniss and Peeta to visit the distrcits on the Capitol's cruel Victory Tour, the stakes are higher than ever. If they can't prove, without a shadow of a doubt, that they are lost in their love for each other, the consequences will be horrifying.

My thoughts:
This is my least favourite in the series, but even so, I still absolutely adore it. Again, the games doesn't actually start until over halfway into the book, but I like that. The main focus of the story isn't just about the games, but about Katniss and her journey.
We follow Katniss and Peeta on the Victory Tour, which is held in the winter, halfway between two games. This is to always remind the citizens of Panem of the games. We see how Katniss suffers from the aftermath of the games, and that Peeta is also struggling. Their relationship develops during the book, and they really care about each other.
On the other hand, Katniss's relationship with Gale has suffered because of her on-stage relationship with Peeta. I'm really annoyed with Gale in this book, because I feel like he gets mad about things he doesn't have the right to get mad about. He and Katniss weren't in a relationship, or even close, before the games.
In this book we meet Finnick Odair, a prevous victor of the game from District 4. I love Finnick. I am seriously in love with him. He's funny, smart and passionate. It's impossible not to like him, even though he seems a little smug in the beginning.
This book did definitely not end with everything from the book wrapping up. It's the opposite. It's the worst cliffhanger, and you just have to continue on to the next book, Mockingjay. Obviously, I won't spoil the ending for you, but when I read this book for the first time I was completely shocked and I was so mad that I had to wait for Mockingjay to come out.
Want to buy this book?
Bookdepository (Affiliate link, worldwide)
Amazon (US)
Amazon (UK)
Adlibris (Norway)