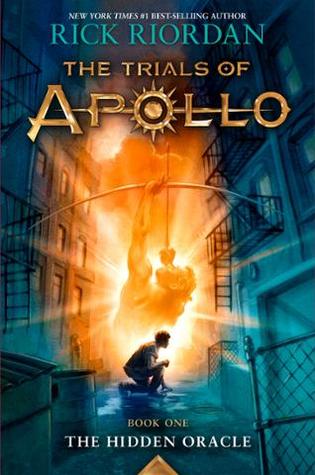 Title:
The Hidden Oracle (The Trials of Apollo #1)
Author:
Rick Riordan
Publisher:
Disney-Hyperion
Year published:
2016
How I got this book:
Bough it through BookDepository (Affiliate link)
My rating:
4,5 stars

Goodreads synopsis:
How do you punish an immortal?
By making him human.

After angering his father Zeus, the god Apollo is cast down from Olympus. Weak and disorientated, hi lands in New York City as a regular teenage boy. Now, without his powers, the four-thousand-year-old deity must learn to survive in the modern world until he can somehow find a way to regain Zeus's favour.
But Apollo has many enemies - gods, monsters and mortals who would love to see the former Olympian permanently destroyed. Apollo needs hep, and he can think of only one place to go... an enclave of modern demigods known as Camp Half-Blood.

My thoughts:
I am so glad Rick Riordan continues to publish books containing the same characters. We meet characters from the Percy Jackson series, and from the Heroes of Olympus series, and I love it.
Apollo is the main character here, now a mortal teenager, but still funny as ever. Every chapter started with a haiku, and details like that are amazing. Apollo's inner monologue is funny as well, and I chuckled out loud several times during this book. I even read some parts out loud for my mom, so she could laugh as well.
This is, as most of Riordan's books, aimed at people younger than me. It's a fast read, and the language is easy. The jokes are obviously made for younger people, but I find them funny. This is just something to be aware of, I don't think I would have liked this book if I went in thinking it would be for an older audience.
I would recommend reading both the Percy Jackson series, and the Heroes of Olympus series, before reading this. It's not necessary to understand the plot, but it does spoil some major things from those books. So if you want to read them, start with them. If you have no plans of reading them, you can just skip to straight to this book, though I think you would enjoy it more if you have the backstory.
This is a book I would totally recommend to everyone. I absolutely love mythology, especially Greek, so if you enjoy that as well, this will be right up your alley. The more you know about Greek mythology, the funnier the books get, in my opinion. Because there are references that you might not pick up on, if you haven't read about them before. But the books are still enjoyable, and at the end of the book there's "Guide to Apollo-Speak" that explains a lot of the words, myths, gods, heroes etc.
If you enjoy middle-grade books, fantasy or Rick Riordan's writing, this is definitely a book you should pick up.

Buy this book?
Amazon (US)
Amazon (UK)
BookDepository (worldwide, affiliate link)
AdLibris (Norway)