Title:
The Wrath and the Dawn (The Wrath and the Dawn #1)
Author:
Renee Ahdieh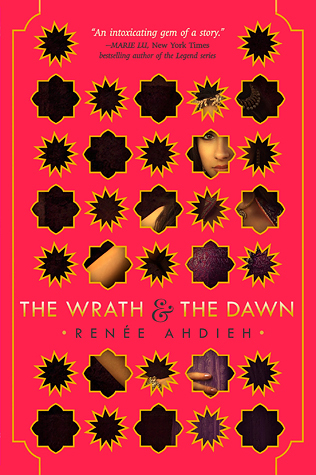 Publisher:
G. P. Putnam's Sons Books for Young Readers
Year published:
2015
How I got this book:
Bought it at Strand Book Store in NYC
Why I read this book:
I heard a lot of great things about it on the internet, and wanted to give it a shot
My rating:
4.5 stars

Goodreads synopsis:
A sumptuous and epically told love store inspired by A Thousand and One Nights.
Every dawn brings horror to a different family in a land ruled by a killer. Khalid, the eighteen-year-old Caliph of Khorasan, takes a new bride each night only to have her executed at sunrise. So it is a suspicious surprise when sixteen-year-old Shahrzad volunteers to marry Khalid. But she does so with a clever plan to stay alive and exact revenge on the Caliph for the murder of her best friend and countless other girls. Shazi's wit and will, indeed, get her through to the dawn that no others have seen, but with a catch... she's falling in love with the very boy who killed her dearest friend.
She discovers that the murderous boy-king is not all that he seems and neither are the deaths of so many girls. Shazi is determined to uncover the reason for the murders and to break the cycle once and for all.

My thoughts:
I had a little bit of trouble getting into this book, because - to me - the names were so unusual. It took a while before I actually remember who was who, and got into it, but that was just me, and it wasn't something I took in account when rating this book. There were also a lot of new words that I didn't understand, and I didn't realize until I finished the book that there is a glossary in the back with all the words. That would have been helpful while reading, especially when picturing the characters in my head.
I really enjoyed reading as Shazi, she was so interesting and complicated. And the stories she told the Caliph were amazing, and I found myself wanting more when she stopped. There's also a magical element in this book, which I enjoyed and found confusing at the same time. It didn't have a consistent appearance, but sort of popped in and out of the story without much explanation. I think that there will be more magic in the next book, and that hopefully means that we will learn more about it as well.
The relationship development between Shazi and Khalid was a bit off to me. I did enjoy it, and I didn't really think about it too much, but now I don't think it's realistic. Shazi was conflicted for a long time about her feelings, but she always seemed to brush them off. It would have been different if she fell in love with him after she found out his secret, but by the time that happened, she was already in love with him.
But other than that, this is a great book. I enjoyed the characters - even though Tariq annoyed me immensely at times - and I want to know what happens to them in the next book. I can't wait until the next book comes out, and see how this all ends.