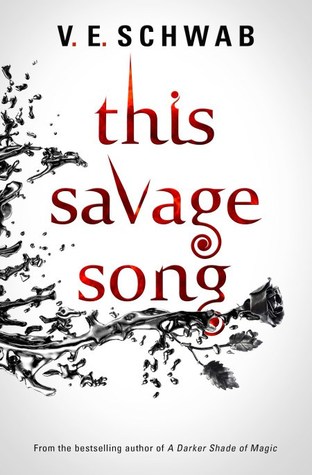 Title:
This Savage Song (Monsters of Verity #1)
Author:
Victoria Schwab
Publisher:
Titan Books Ltd
Year published:
2016
How I got this book:
I bought it at BookDepository
My rating:
4 stars

Goodreads synopsis:
There's no such ting as safe in a city at war, a city overrun with monsters. In this dark urban fantasy from author Victoria Schwab, a young woman and a young man must choose whether to become heroes or villains - and friends or enemies - with the future of their home at stake. The first of two books.
Kate Harker and August Flynn are the heirs to a divided city - a city where violence has begun to breed actual monsters. All Kate wants is to be as ruthless as her father, who lets the monsters roam free and makes the humans pay for his protection. All August wants is to be human, as goodhearted as his own father, to play a bigger role in protecting the innocent - but he's one of the monsters. One who can steal a soul with a simple strain of music. When the chances arises to keep an eye on Kate, who's just been kicked out of her sixth boarding school and returned home, August jumps at it. But Kate discovers August's secret, and after a failed assassination attempt the pair myst flee for their lives.

My thoughts:
I really enjoyed this book. It took me a while to get into everything, but once I did I was really immersed in the story and setting.
We follow two main characters, Kate and August, and get to read from both of their perspectives, which I really enjoyed. They see the world in such different ways, and it was interesting to learn what they thought of the world they lived in, and each other.
I have never read a book like this before, and the plot is so intriguing. I love the fact that there are three types of monsters, and they are all breed from different kind of evil. August is a sunai, and I found them so interesting. It might have something to do with the fact that August uses his violin, and I have played violin for several years, so I'm not completely subjective. However, the fact that they use music to kill is so amazing, and it really captivated me.
The first third of the book I could not get into it, but it did pick up. I stayed up until 3 in the morning to finish it, because I was not able to put it down. It was just too good.
I am really excited to see what happens in the next book, and the story will progress. This is definitely a book I will recommend if I think someone will like this.

Buy this book?
Amazon (US)
Amazon (UK)
BookDepository (worldwide, affiliate link)
AdLibris (Norway)