*This is the second book in a series, and will contain spoilers for The Sword of Summer. You can find my review for that here*

Title:
The Hammer of Thor (Magnus Chase and the Gods of Asgard #2)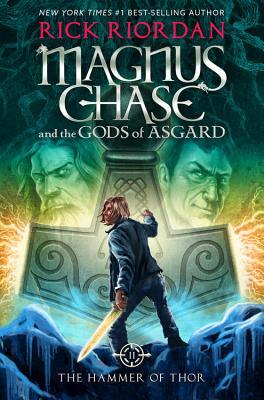 Author:
Rick Riordan
Publisher:
Disney-Hyperion
Year published:
2016
How I got this book:
Bought it at BookDepository
My rating:
4 stars

Goodreads synopsis:
Thor's hammer is missing again. The thunder god has a disturbing habit of misplacing his weapon - the mightiest force in the Nine Worlds. But this time the hammer isn't just lost, it has fallen into enemy hands. If Magnus Chase and his friends can't retrieve the hammer quickly, the mortal worlds will be defenseless against an onslaught of giants. Ragnarok will begin. The Nine Worlds will burn. Unfortunately, the only person who can broker a deal for the hammer's return is the gods' worst enemy, Loki - and the price he wants is very high.

My thoughts:
I really enjoyed this book. I have always enjoyed Riordan's writing, and this is no exception. Although he writes middle-grade books, I always enjoy them. You just have to be aware of what they are, and not expect anything else.
There is something about Riordan's writing that I just love. His writing is funny, but not over-the-top. The main character, Magnus Chase, isn't perfect, and he knows it. He is sarcastic and jokes about himself a lot, and a way I can really relate to.
The gods are portrayed over-the-top in this series, but I love it. Riordan has taken their personalities and made them bigger, and more fitting to the modern world. I have grown up with Norse mythology, so I am quite familier with everything, but this book is still really entertaining. In this book, Riordan has also included Scandinavian - and especially Norwegian - folklore, with the presence of nøkk (neck) and hulder. Being familiar with those as well, I was thrilled when they showed up in this book. Though they weren't exactly as they are in folklore, it was still nice seing them in the story.
I can't wait for the next book to come out, I am really curious about what's going to happen, and how things will develop with the people Magnus met at the end. If you enjoy Riordan's writing, this is definitely a book you should pick up. It's funny, entertaining and action-packed. It's diverse and relatable.

Buy this book?
Amazon (US)
Amazon (UK)
BookDepository (worldwide, affiliate link)
AdLibris (Norway)