This is the last book in The 5th Wave series, and will contain spoilers for the two other books.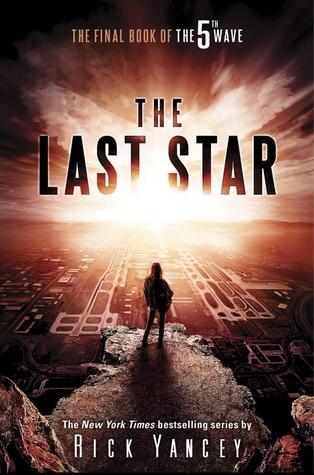 Title:
The Last Star (The 5th Wave)
Author:
Rick Yancey
Publisher:
G.P. Putnam's Sons Books for Young Readers
Year published:
2016
How I got this book:
Listened to it as an audiobook on the app Storytel
My rating:
3,5 stars

Goodreads synopsis:
The enemy is Other. The enemy is us.
They're down here, they're up there, they're nowhere. They want the Earth, they want us to have it. They came to wipe us out, they came to save us.
But beneath these riddles lies on truth: Cassie has been betrayed. So has Ringer. Zombie. Nugget. And all 7.5 billion people who used to live on our planet. Betrayed first by the Others, and now byb ourselves.
In these last days, Earth's remaining survivors will need to decide what's more important: saving themselves... or saving what makes us human.

My thoughts:
I was quite satisfied with this ending, which made the series as a whole better to me. I thought it wrapped up the story nicely, while still leaving some things to the imagination.
We read from several different perspectives in this book as well, all characters we are familiar with. I really think the multiple POV's worked well in this series. Sometimes it just doesn't work, but it did here. My only problem, and this was because of the audiobook, was that there were two readers. Which meant that I knew the gender of the POV's view, but if I didn't pay close enough attention, I would have a hard time figuring out if it was Ringer or Cassie, or Ben and Evan, for instance.
The plot picked up a lot more in this book, and I felt like something was happening all the time, without being to rushed. I had no idea how the story was going to end, and I won't spoil it here, don't worry, but I was pleasantly surprised with it.
This was better than the second book, which to me, didn't really do much. Overall, I enjoyed this series. It's not one of my favourites, but I didn't dislike it either. Not something I'm going to recommend to everyone, but if I think someone will enjoy them, I will mention them.

Buy this book?
Amazon (US)
Amazon (UK)
BookDepository (worldwide, affiliate link)
AdLibris (Norway)