This is the third book in a series, and will contain spoilers for Cinder and Scarlet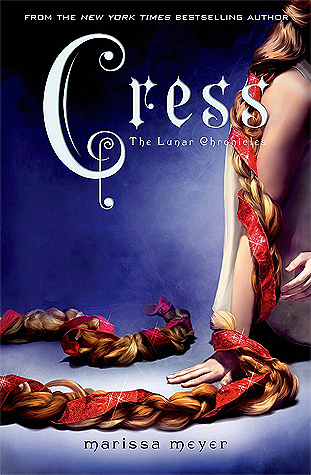 Title:
Cress (The Lunar Chronicles #3)
Author:
Marissa Meyer
Publisher:
Puffin Books
Year published:
2014
How I got this book:
Bought it at a local bookstore
My rating:
4 stars

Goodreads synopsis:
In this third book in the Lunar Chronicles, Cinder and Captain Thorne are fugitive on the run, now with Scarlet and Wolf in tow. Together, they're plotting to overthrow Queen Levana and her army.
Their best hope iles with Cress, a girl imprisoned on a satellite since childhood who's only ever had her netscreens as company. All that screen time has made Cress an excellent hacker. Unfortunately, she's just received orders from Levana to track down Cinder and her handsome accomplice.
When a daring rescue of Cress goes awry, the group is separated. Cress finally has her freedom, but it comes at a high price. Meanwhile, Queen Levana will let nothing prevent her marriage to Emperor Kai. Cress, Scarlet, and Cinder may not have signed up to save the world, but they may be the only hope the world has.

My thoughts:
I like this series more and more as I read, and I'm quite sad that I only have one more book after Cress.
All the characters are really likeable, and none of them are perfect. They all have their flaws, making it easier to connect with them. We are introduced to a new character, Cress, in this book, and we also get to read from her perspective. We actually met Cress shortly in the first book, as the girl who warned Cinder about Queen Levana and her intentions.
The plot is fast paced throughout the book, even though it is over 500 pages. Meyer is great at writing from the different perspectives, without it ever getting confusing. I think a big part of the fast pace is Meyer's ability to switch smoothly between characters, making the story progress at all times.
In this book, as well as in the two previous books, the fairy-tale aspect is used just enough. It's very clear a re-telling of Rapunzel, though a version that works with this story. There are plenty of references in the book, but just the perfect amount, not too much.
I will be picking up the next book, Winter, as soon as possible. I really want to see how this story ends, and what'll happen to our beloved characters. Without spoiling anything, there are a couple of them that I'm worried about at the moment.

Buy this book?
Amazon (US)
Amazon (UK)
BookDepository (worldwide, affiliate link)
AdLibris (Norway)