Title:
Boy Meets Boy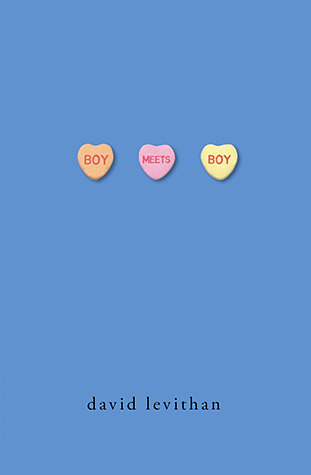 Author:
David Levithan
Publisher:
Alfred A. Knopf
Year published:
2003
How I got this book:
I borrowed it from one of my friends
My rating:
4 stars

Goodreads synopsis:
This is the story of Paul, a sophomore at high school like no other: The cheerleader ride Harleys, the homecoming queen used to be a guy named Daryl (she now prefers Infinite Darlene and is also the star quarterback), and the gay-straight alliance was formed to help straight kids learn how to dance.
When Paul meets Noah, he thinks he's found the one his heart is made for. Until he blows it. The school bookie says the odds are 12 - to - 1 against him getting Noah back, but Paul's not giving up without playing his love really loud. his best friend Joni might be drifting away, his to her best friend Tony might be dealing with ultra-religious parents, and his ex-boyfriend Kyle might not be going away anytime soon, but sometimes everything needs to fall apart before it can really fit together right.
This is a happy-meaningful romantic comedy about finding love, losing love, and doing what it takes to get love back in a crazy-wonderful world.
My thoughts:
This is my first David Levithan book, and I really liked it. I've read Will Grayson, Will Grayson which he wrote with John Green, so I wasn't completely unfamiliar with his writing before going in to this, and I got what I expected.
This is set in a gay-utopia, and the setting is basically too good to be true. Everyone is accepting in what Paul calls "Paul's Town", except Tony's parents. Though it doesn't seem too realistic, I'm glad Levithan wrote this book. This is how it should be regarding sexuality, nobody should care. Infinite Darlene is a 6"4 transsexual quarterback and homecoming queen. I mean, you go girl!
It take me a couple chapters to really get into it, but that was because I was stressed, not because the book wasn't good. I did however read almost all of it in a day, when I finally had the chance to really read again. I flew through it, and all of a sudden I'd been sitting in the bath for over two hours, and water was cold.
I really liked this book, and I hope there will be more books about homosexuality in the future, if they follow Levithan's lead. It was a normal love story, with the normal complications, without too much focus on the fact that Paul is gay. But still enough to make you aware, and think about how they are treated in this book, and how they would be treated in the real world.
I'm going to tell several of my friends to read it. Not because they need to be more aware, but because I genuinely think it's a great book, and I want them to read it. And I want you to read it as well!
Buy this book?
Amazon (US)
Amazon (UK)
BookDepository (Worldwide, Affiliate link)
Adlibris (Norway)