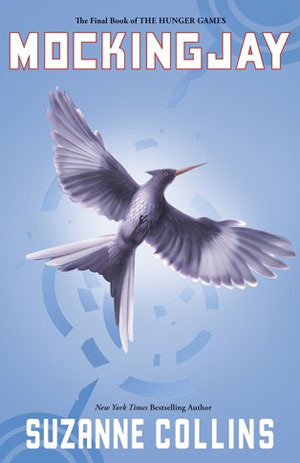 Title:
Mockingjay (The Hunger Games #3)
Author:
Suzanne Collins
Publisher:
Scholastic Press
Year published:
2010
How I got this book:
Don't remember
My rating:
5 stars

Goodreads synopsis:
My name is Katniss Everdeen.
Why am I not dead?
I should be dead.
Katniss Everdeen, girl on fire, has survived, even though her home has been destroyed. Gale as escaped. Katniss's family is safe. Peeta has been captured by the Capitol.District 12 really does exist. There are rebels. There are new leaders. A revolution is unfolding.
It is by design that Katniss was rescued from the arena in the cruel and haunting Quarter Quell, and it is by design that she has long been part of the revolution without knowing it. District 13 has come out of the shadows and is plotting to overthrow the Capitol. Everyone, it seems, has had a had in the carefully laid plans -- except Katniss.
The success of the rebellion hinges on Katniss's willingness to be a pawn, to accept responsibility for countless lives, and to change the course of the future of Panem. To do this, she must put aside her feelings of anger and distrust. She must become the rebels' Mockingjay -- no matter what the personal cost.

My thoughts:
I know that a lot of people don't really like this book, but it's actually my favourite in the series. As much as I love the arenas and the games, I find this a lot more interesting. The aftermath of everything.
It's definitely a bit on the slower side the firt third of the book, but that picks up. And slow doesn't mean bad, because there's a lot of important stuff going on. I love that we don't really know whose side to be on, because Katniss is unsure.
Again, we meet so many new, interesting characters in this book as well. We get to learn so much about District 13, and the Capitol. I don't even know what to say about his, because I don't want to spoil anything. But I can say one thing for sure, I had a blast, reading this.
A lot of people hated the ending of this book, don't worry I won't spoil it, but I actually liked it. To me, it made sense. And I don't usually pick teams in love triangles, because I feel like the author decides, and then I'm just okay with that.
If you haven't read this trilogy, first of all, why are you reading this review? Second, why are you not going to pick it up right now? It's an amazing series that I think everyone should read, or at least give it a shot. To me, this is on the top of my list with Harry Potter. I can't even decide which I love more, because they are both so close to my heart.
Want to buy this book?
Bookdepository (Affiliate link, worldwide)
Amazon (US)
Amazon (UK)
Adlibris (Norway)