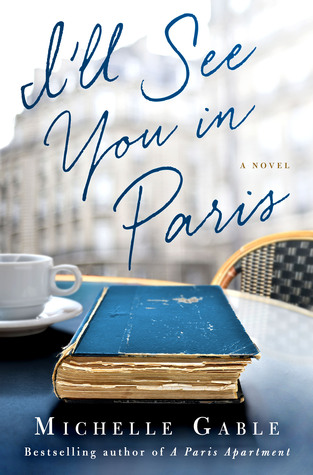 Title:
I'll See You In Paris
Author:
Michelle Gable
Publisher:
Thomas Dunne Books
Published:
It will be published February 9th 2016
How I got this book:
I got an arc of this book through NetGalley, in exchange for an honest review
My rating:
4,5 stars

Goodreads synopsis:
After losing her fiancé in the Vietnam War, nineteen-year-old Laurel Hal tales a job in England, hoping the distance will mend her shattered heart. Laurel expects the pain might lessen but does not foresee the beguiling man she meets or that they'll go to Paris, where the city's magic will take over and alter everything Laurel believes about love.
Thirty years later, Laurel's daughter Annie is newly engaged and an old question resurfaces: who is Annie's father and what happened to him? Laurel has always been vague about the details and Annie's told herself it doesn't matter. But with her impending marriage, Annie has to know everything. why won't Laurel tell her the truth?
The key to unlocking Laurel's secrets starts with a mysterious book about an infamous woman known as the Duchess of Marlborough. Annie's quest to understand the Duchess, and therefore her own history, takes her from a charming hamlet in the English countryside, to a decaying estate kept behind barbed wire, and ultimately to Paris where answers will be found at last.

My thoughts:
I haven't read any books like this before. I had no idea what to expect from it, but I was not disappointed. I'm so glad that I was able to read this for a review, and I have a feeling I will be bothering my friends and telling them to read this as well.
I connected with every character, and I don't know what part of the story I enjoyed the most. I was so intrigued by the story of Pru and Win, but I also wanted to know how Annie connected the pieces and what she found out.
One of my favourite things about this book was the setting. And there were so many different settings, but even so, it wasn't hard to keep up with the story. Everything was organized nicely, and you always know what part of the story you're currently reading.
I don't have much to say about this book, because I don't want to spoil anything that happens. I knew almost nothing going in to it, and because of that I didn't know what to expect. I was pleasantly surprised with the ending, and I won't say what happens, but everything tied up perfectly and you weren't left with any unanswered questions. I will recommend this to several of my friends, and to everyone reading this review. It is definitely worth reading, and you should pick it up at February 9th, when it's released.
Buy this book?
Amazon (US)
Amazon (UK)
Bookdepository (Affiliate link, worldwide)
Adlibris (Norway)