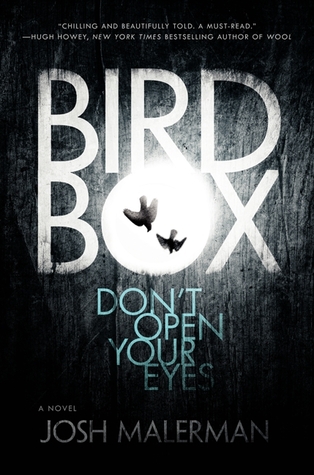 Title:
Bird Box
Author:
Josh Malerman
Publisher:
Ecco
Year published:
2014
How I got this book:
Bought it at the store Outland in Bergen
My rating:
4,5 stars

Goodreads synopsis:
Something is out there, something terrifying that myst not be seen. One glimpse of it, and a person is driven to deadly violence. No one knows what it is or where it came from.
Five years after it began, a handful of scattered survivors remains, including Malorie and her two young children. Living in an abandoned house near the river, she has dreamed of fleeing to a place where they might be sage. Now that the boy and girl are four, it's time to go, but the journey ahead will be terrifying: twenty miles downriver in a rowboat - blindfolded - with nothing to rely on but her wits and the children's trained ears. One wrong choice and they will die. Something is following them all the while, but is it a man, animal, or monster?

My thoughts:
I didn't really know what to expect when I went into this book. The only thing I'd heard about it, was that it's a great book to listen to as an audiobook. Before that, I'd never heard of it before. So when I saw it being recommended at a bookshop, I just had to pick it up. And I am so glad I did.
This isn't the biggest book, and I flew through it in just a couple of days. Even though it is under 300 pages, there is so much happening and you connect with the different characters. You switch back and forth from Malorie going down the river and flashbacks, which sets up the story.
The premise is really interesting, and I haven't really heard of anything like it before. The idea that there is something that will kill you out there, but you can't open your eyes to see them is really intriguing. Humans are curious, so I can't imagine how hard it is to knowing there's something there, but you can't look at it. Because of this, I was always at the edge of my seat. Because the characters can't look outside, we don't know anything that's happening outside either. We only know what they know, or guess, which really helps the suspense in this book.
I am really glad I picked this book up, and I have recommended it to several of my friends and family members. This is unlike what I usually read, but it made me want to read more books like this. It's super suspenseful and quite scary, without feeling too much like a horror book.

Buy this book?
Amazon (US)
Amazon (UK)
BookDepository (worldwide, affiliate link)
AdLibris (Norway)